Audi Q7 Limousine
Please note this vehicle is no longer in use in accordance with VOSA UK Transport Legislation.
Lux Limo are now offering a Audi Q7 Limo. The Audi limousine has now been stretched out. Why not book this luxurious Audi Q7 limo to take you places in style. The Audi Q7 is a model loved by all. You can now carry up 12 people in the Audi jeep. The limo Jeep comes in a stunning silver colour or metallic black.
Book the latest Audi Q7 Limousine and be dazzled with the 26 inch chrome spinners, the neon lights, DVD player, juke box and ice machine. The Audi Q7 Limousine Jeep is very popular for all Audi car lovers. Have you got a birthday coming up? If so book a Audi limo jeep and be the talk of the town in the brand new Audi.
The Audi Q7 name comes from the mark A6 and A8 Audi model. The Q7 is built by VW Volkswagen on a 7L platform. This SUV is prefect for a limo hire. You can now book the Audi q7 limo anywhere in the UK. No Job is too big or no job is too small, call the office on 0845 055 0740 to book the all new Audi q7 and be the talk of the town.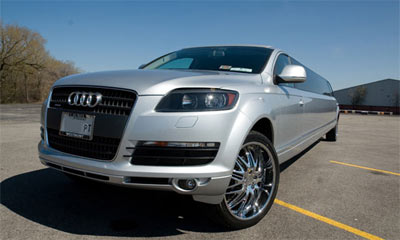 Latest Audi Q7 Limousine Hire Articles: