Hen Night Limousine
Limo Hire Hen Night Hen night limo hire are now taking bookings to Blackpool..
Hen Night Pink Limo Hire The Pink limousine is very popular with hen nights..
Limo Hire Girls Weekends Planning a night out with the girls? Travel in a pink hummer limousine..
Limo Hire Pink 16 Seater - Need to transport a large group of Hen's? Hire the 16 seater pink hummer limousine..
Limo Hire Hen Night
Planning your hen night limo or stag night limo hire! Going to Blackpool, Cardiff, Bournemouth or Birmingham. Please make sure you book a with hummer hire limousine.
Hen Night Limo Hire - Blackpool, Bournemouth, Birmingham or London.
Hen Night Limousine - Make this hen night a hen night to remember. Make the theme a pink one. All Hens will be wearing pink outfits. Next.. what type of pink limousine should you book. Pink Hummer Limousine, Pink Stretched Limousine, Pink Navigator, Pink Excursions, Pink Party Bus or even a pink fire engine. Once inside the Pink Limousine, enjoy the pink interior, pink leather seats, pink bar and pink glasses. Inside the Limousine you have a champagne bar, LCD TV, CD Player and the latest sound system, so you can really feel your music.
Once cruising down the motorway to your first stop, enjoy three bottles of pink champagne on ice. First stop in the pink limousine could be a strip club for you ladies. Make sure the bride to be is wearing something that make her stand out from rest of the hen party. Usual Hen wear would be a pink wedding veil, and a pink T-shirt, which is signed by the hen party and any people she meets on her travels. Once the Hen party is finished at the strip club, Next stop would be ..
Fancy drinking at some trendy bars. The bars in Birmingham Broad street, cater for all taste, from 70's Bars to the latest dance music. This would be a great place for the hen party to get started with some drinking games. Once you are ready to move on from the Bars, why not check out Works night club and get you and your hen party VIP tickets in to the work night clubs to finish the night of in pink hen night style.
Free limo hire Quote please phone 0845 055 0740 or visit our Limo Hire Areas to find your nearest limousine operator.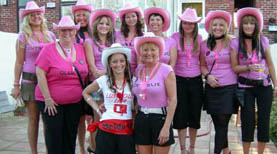 Finally let the Pink Hummer Limousine take you home. You can carry on drinking some more pink champagne, or just relax and let our chauffeur take you home or your hotel in style.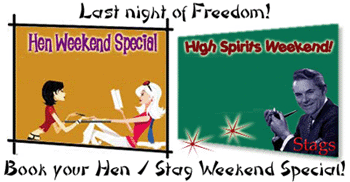 It easy to book a Pink Hummer Limo with our hen night package. Just phone 0845 055 0740 and one of our customer service team will guide you through you hen night options. Email us and one of our hen night teams will call you back or reply within 24 hours.
Related Limousine Hire Articles: