Limo Hire London | London Limousines
As the ancestral heart and capital of the British Isles, London is everything a modern capital city should be and more. Whether you're interested in its culture drenched monuments, world class museums and galleries or zoos and tourist attractions, there are memories to be made in London which will stay with you for a lifetime.

London Limo Hire will take the pain out of driving in London. Why not let our professional Chauffeur drive you around London and visit the famous points in the big city of London using our 16 seater Black Hummer Limo or if you want something different try our new Pink Hummer Limousine and Party Bus Limousine.

Big Ben London -Big Ben is an iconic landmark which is famous the world over. Perhaps it's the beautifully illuminated clock face that makes it so striking, or the fact that it is reputedly named after 19th Century Baron and civil engineer Benjamin Hall, who oversaw the latter stages of its construction. Regardless, you can now cruise past the towering clock in a Hummer limo in whichever colour you use – remember to look out for the light above the clock face; it lights up only when UK parliament is in session!

The London Eye - In 1999 the London Eye opened, and has since become one of the capital's prime attractions. Standing an impressive 443 feet (135 metres) above the Thames river in Lambeth, the structure offers an astonishing view of this historic city from the safety of enclosed capsules. This distinctive wheel, which can be seen from many other areas of the city is definitely not to be missed.. It is adjacent to London's County Hall, and stands opposite the offices of the Ministry of Defence situated in Westminster which it overlooks to the west. Why not take a loved one to visit this amazing piece of structure in a limousine of your choice.

Buckingham Palace London - Buckingham Palace has served as the official London residence of Britain's sovereigns since 1837. It evolved from a town house that was owned from the beginning of the eighteenth century by the Dukes of Buckingham. Today it is The Queen's official residence. Although in use for the many official events and receptions held by The Queen, areas of Buckingham Palace are opened to visitors on a regular basis. Visit the queen in a hummer limousine, pink hummer limousine, White Hummer Limousine or a black hummer limousine.

Camden Market London - Camden Market is one of London's top attractions. It's a young place, but somehow seems to bring out the youngster in everyone. Virtually everything is on sale here, clothing, music, antiques, collectibles, ethnic art, rugs and kelims, food and drink. It does tend to get a bit crowded on Sundays, and you could think yourself back in the swinging sixties. Very mixed quality of goods on offer but there are real bargains to be found. Fancy a going shopping with your friends? Head down in a Party bus limousine with all your friends.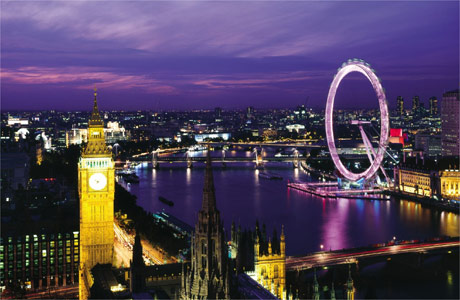 Piccadilly Circus London - Piccadilly Circus is a busy plaza in the heart of London at the junction of five major streets: Regent street, Shaftesbury Avenue, Piccadilly and Covent Street. It was created by John Nash as part of King George IV's plan to connect Carlton House with Regent's Park.

The creation of the Shaftesbury Avenue in 1885 turned the plaza into a busy traffic junction. This attracted the first illuminated advertisements in London in 1895. The plaza used to be surrounded by billboards, creating London's version of Times Square, but currently only one building still carries large (mostly electronic) displays.


Madame Tussauds London - Madame Tussauds invites you to experience what it is like to be famous, as you join a host of the world's hottest celebrities. Join hundreds of life-like figures from Kylie to the Queen, Britney to Brad, bringing you the exciting VIP day out - there's always something different happening at Madame Tussauds!

Some place to visit in a limo hire would be:
Day trips in a limousine are a great way to get a snapshot of England when you're in London. The London Eye, Oxford Street, London Dungeon, Parliament, Westminster Abbey, Notting Hill, Buckingham Palace, the list goes on...
All our limousines in London are fully loaded with flat screens, DVD, CDs, lazers, strobe, fibre-optic lights and more. Travel to London from any where in the UK. No matter what the occasion we have the right limousine to suit all budgets. Planning a hen night or stag party why not hire a hummer limousine to your hot spot in London. You can party all night long inside the limousine, while your professional chauffeur takes you to your venue in pure luxury and style.
London Royal Ascot Limo Hire are now taking bookings for Royal Ascot. We have 8 seater limousine to 16 seater, no matter what colour you are looking to hire, we have black limo hire, white limo hire, pink limo hire, silver limo hire, red cherry limo hire and many more. We will provide all our customers of London with tables, chairs and gazebo for the world famous royal ascot. Why not travel in the party bus limousine.
Limo hire in London has the biggest Hummers, Navigators & Excursions! If it's size that matters, check our limos out!

Latest London Limousine hire articles: