Limo Hire Leicester | Leicester Limousines
Leicester, a thriving city and the county town, with a university. There is lots going on with clubs, restaurants and the Haymarket Theatre. The city has good shopping facilities with pedestrianised shopping streets and the Shires Shopping Centre. When you are visiting, take a look at the famous unusual clock tower, and try the canal walks along the Grand Union and Soar river. Historic Roman pavements and baths still remain from the early settlement of the site. Most museums are free in this city, which is useful for tourists!. There is a large Indian population with a good Hindu temple.

Kid's Holiday coming up in Leicester? Why not take them to Leicester City Museums. Education can be so much fun and rewarding in one our Pink Hummer Limousine. All Children from Leicester will receive a Limo toy with each booking. So book Now to take up this offer of the year provided by Leicester Limousine Hire

Some place to visit in Leicester would be:
DeMontfort Hall, Granville Rd, Leicester, LE1 7RU - Demontfort hall is a large and major concert hall situated in Leicester city center it was built in 1913 and then in 1995 had a massive refurbishment done to it, the hall is mainly used for music concerts and altogether this place can hold from 400 to 2200 seats there are different seats as well such as, all tiered, half standing/half seated, cabaret, dance floor etc. There is also an outdoor ampitheatre which can hold up to 7000 people for those big shows, this place is well run and has a lot of friendly staff to help you around and to your seat and then you can watch the fantastic shows and music concerts that will be happening there.
National Space Centre, Exploration Dr  Leicester LE4 5NS - The national space center is one of the UK's best known and biggest attractions, when you visit you will be happily greeted by the staff there who will be more than willing to help you with anything there, this place is also a young persons dream as there are so many activities to do, levers to pull and buttons to press and many more surprises, you find out about how the world started and about the planets, why they exist and the reasons why they are there, even on how they got there!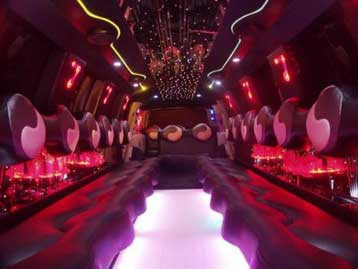 Fan Club Nightclub, Leicester 40 Abbey St, Leicester LE1 3TD - Leicester Fan Club Nightclub is a bar/club in the heart of Leicester which holds random events and parties that people can call in and book, it is open from 10pm till 3am in the morning and sometimes is open earlier for parties, the service there is fantastic and the waiters and helpers will always be there to help you if you need anything from drinks to snacks they have lots of lights and a great amount of dance music and "dubstep" music that they play which is great to dance to! This is aimed at people from the ages of 18 upwards legally so you can buy drinks etc, overall it is a fantastic Club. Travel to the club in a Porsche Limo Hire.
Leicester Marriott Hotel, Smith Way, Grove Park, Enderby, Leicester LE19 1SW - The Leicester Marriott hotel is located in central England, in Leicester it is well run by friendly staff and workers who always help to make you have a comfortable stay, they have special guest rooms which boast luxurious beds, mini bars, 32" flat screen T.V's, air conditioning and work spaces and an internet connection for your internet browsing. There is also a large swimming pool, gymnasium a sauna and a steam room all for the guests benefits there is also a fantastic restaurant there and is also close to the university, overall this is a fantastic place to go to.
Latest Leicester Limousine Hire Articles: