Here at Lux Limo we understand that your wedding day is the most important day of your life. You only get one shot at it to get it right, so you've no doubt been meticulously planning every last tiny detail of your big day so ensure nothing less than absolute perfect. And while the day itself will undoubtedly be an unforgettably enjoyable experience, the planning stages are stressful to the point of tearing your hair out at the best of times.
But that doesn't have to be the case – so let us here at Lux Limo ease some of your stress and take care of your luxury limousine or wedding car transport for the day courtesy of our wedding limo hire services.
Wedding car hire and wedding limo hire packages are perhaps our most requested and most popular choice amongst our band of loyal customers, so it is our duty to ensure their perfection and to guarantee that everything goes just right on your big day.
We take a lot of pride and care in our wedding limo hire and wedding car hire services, from the vehicles we provide right down to the service you receive from your personal chauffeur on the day – everything is planned to perfection, much like your wedding day itself!
We cater to a lot of different styles of wedding, including traditional church weddings, Asian weddings, registry office weddings, gay weddings – everything you can think of! And it is our experience, expertise and understanding of the unique requirements of these different wedding styles that make us the perfect choice for your wedding day.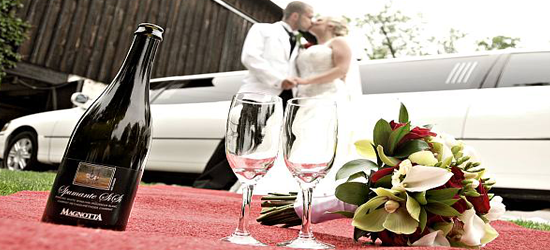 Whether you need just an elegant entrance in a stunning white or black Rolls Royce Phantom, or if you require a full day's transport to your various venues (including the reception) in a beautiful white stretch Lincoln limo then you can have that all and more here at Lux Limo. We even have stunning white Hummer limousines which are perfect for a beautiful limo ride for a large group of people – perhaps large families or a big group of close friends.
Our wedding car hire and wedding limo hire services include:
High standard service
Free Ribbons and bows
Bubbly on ice or ice cold soft drinks
Non-Smoking Chauffeur in a black suit
Color coordinated napkins
New model limousine
So what are you waiting for? Check out our range of limousines or wedding prestige cars, such as vintage cars and the stunning Rolls Royce Phantom, and give us a call to book your dream wedding ride of a lifetime. You can reach Lux Limo by calling 0800 002 9475 or emailing us at info@lux-limo.co.uk for a free, personalised quote for your special wedding day.