Here at Lux Limo we understand that weddings are one of the most important days in your life. Everything has been planned to perfection; from the venue, to the dresses, all the way down to seating arrangements and colour co-ordination! But don't let the stress of sorting a professional limousine service get the better of you – let Lux Limo take over your wedding limo
hire and wedding car hire needs.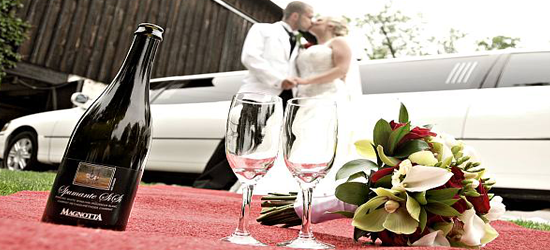 We have been providing the finest wedding limousines and luxury wedding cars to couples all over the UK for many years – we've made a lot of happy couples even happier with our high-quality, professional wedding limo service! And there are five promises we always make with our packages for weddings:

1. We always turn up with plenty of time so you can relax, safe in the knowledge that you won't be late!

2. Both your limousine and your limo chauffeur will be immaculately presented and professional throughout your wedding limo hire experience

3. We will always offer an all-round, full limousine hire transport service – from home to ceremony, and ceremony to reception venue. If you don't need all that transport and just want single transfers, then that's fine too. It's your wedding
day after all!

4. We always have the best range and choice of immaculately kept limousines for any possible wedding style, tradition and faith. If you want a vintage car, then we have some great classic Rolls Royces available for wedding car hire. If you
need something modern then no problem – our Chrysler limousines are perfect for the. Or if you want something extravagant and contemporary, and also a little different, then our hummer limos are also becoming increasingly popular limousines of choice for wedding limo hire packages in the UK.

5. We pride ourselves on being able to provide the best possible wedding limo hire and luxury wedding car hire services in the UK at the best possible prices. We're very competitive, and will always do our best to give you the best price – enough if you get a better quote somewhere else!

So if you'd like these five promises, and the best limousine hire service in the UK, then call us now on 0800 002 9475 or email at info@lux-limo.co.uk to book your wedding limousine of a lifetime!