A fascinating vintage Lagonda racing car, dating back to the 1930s, is set to fetch a staggering minimum of £1 million this Autumn when it goes up for auction in September of this year.
The 1939 Lagonda V12 Team Car, which competed in the prestigious Le Mans racing tournament that same year, was originally owned aristocratic Lord Selsdon and Oxford and Eton graduate Lord Waleran.
Back in the pre-World War II era racing days, it didn't matter how inexperienced you were at racing or even driving – those with the cash to back up their enthusiasm had a chance to compete in renowned racing events like Le Mans. And these two Lords certainly had the cash to back it up!
Lord Selsdon was persuaded by his aristocratic partner to put up his £65,000 inheritance (nearly £3.5 Million in today's money) to fund the project, and in 1939 the pair competed in the illustrious Le Mans racing competition – placing fourth, amongst professional drivers.
Now this prestigious vehicle, one of only two like it in the world, is set to go under the hammer at Bonhams – one of the world's largest auctioneers of fine art and antiques.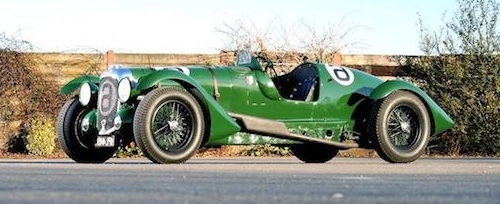 It is due to go on display at Bonhams Goodwood Festival of Speed sale on 29 June and will finally go up for auction at the Bonhams Goodwood Revival sale on 15 September where it is expected to fetch well in excess of Bonhams' £1 Million estimate.

Now, we don't all have that kind of money lying around, so in the past it's been difficult to get this kind of vintage car fix without having your pockets well and truly lined. Well, not anymore thanks to our fantastic vintage car hire services here at Lux Limo.

We've been providing the whole of the UK with our superb cheap vintage car hire services, including vintage Rolls Royce hire and vintage Bentley hire. For example, the Rolls Royce Silver Shadow is one of the most iconic vintage Rolls Royce hire cars and certainly one of the most luxurious – why not call Lux Limo and hire the vintage Rolls Royce Silver Shadow to add some style to your traditional wedding day?

Of course, our vintage hire cars are not purely reserved for wedding days. You can hire them for birthdays, stag nights, hen nights, school proms, or even just a one-hour cruise round if you're itching to experience a truly vintage classic car.

Whatever your needs and reasons for hiring a vintage car from us here at Lux Limo, we have a great selection of vehicles and tailor made packages to give you a truly memorable experience each and every time.

If you do want to hire a vintage car, or any other kind of prestige luxury car or stretched limousine, from us here at Lux Limo then simply call 0800 002 9475 and get yourself a free, instant and personalised quote from one of our friendly sales team. We are open 24/7, so you can call to make your enquiry or booking whenever it is most convenient for you.