Bentley have unveiled their latest model of Continental, the Bentley Continental GT Speed, which is the company's fastest car to date – and its most stylish!
Bentley claim that the Continental GT Speed, priced at a rather flush £151,000, will 'appeal to driving enthusiasts who place a high value on outright performance, agile handling, distinctive design and sporting luxury'.
The vehicle will be able to reach speeds of up to a whopping 205mph, hitting 0-60 in under four seconds, making it Bentley's fastest road-going car ever. The only Bentley to beat the Speed's power is the Bentley Speed8 racing car, which has a top speed of 215mph. However, it's not a road car so you're unlikely to see one cruising around any time soon!
The oomph under the Speed's hood that provides this amazing power consists of a whopping six-litre turbo charged engine, with a power of 616 horsepower – something the Mail notes is equivalent to the power of no less than six Ford Fiestas!
This powerfully posh Bentley Continental GT Speed is also remarkably fuel efficient for something with such a big W12 engine, with Bentley having claimed that the GT Speed's efficiency has been improved by 12 percent over previous models of Continental GT.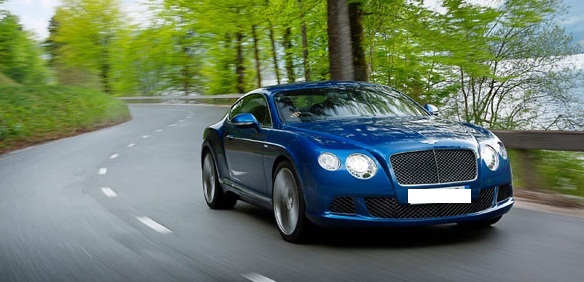 Still, it's unsurprisingly hungry for petrol, managing just 20 miles to the gallon – but when you have a car of this style, power and speed, sacrifices have to be made! And looking at the inside of the vehicle, sacrifices certainly haven't been made anywhere in the GT Speed's lavish appearance.

Inside the Continental GT Speed, you're treated to pure luxury – both for passengers and for the driver. The cabin is a hand-crafted masterpiece, featuring diamond-quilted leather as well as sleek and stylish brushed aluminium fascias and accessories.

The Continental GT Speed's hefty pricetag does also include shipping, so if you're looking to buy for when the final produciton models roll off the factory line in Autumn this year, the £151,500 bill is your only cost. Well, plus your necessities (fuel, tax, insurance etc.).

Unfortunately, many of us don't have bank accounts with six-figure sums just surplus to requirements so until you have a nice little windfall or win the lottery, it'd be wise to check out our luxury limousines and fantastic prestige cars here at Lux Limo!

We have an amazing range of stretched limos and luxury prestige cars whose style and finesse come close to (and match that!) of the new Bentley Continental GT Speed. Whether you want a private and exclusive chauffeured car, or a unique and lavish stretched limousine, our fleet here at Lux Limo are bound to impress.

Our Lincoln limousines are a frequent stylish choice for luxury limo hire in the UK. The Lincoln limo is a classically styled traditional stretched limousine, looking incredibly elegant and sleek, with seating on board for up to eight people. Luxury features on board include A-grade leather upholstery, stylish neon lighting, state-of-the-art digital entertainment (including powerful sound system and high-end LCD TVs with DVD players) – all topped off with a luxury champagne bar.

What's more, we fill the champagne bar inside the Lincoln limo hire car with lashings of complimentary bubbly on ice, so whatever your reason for hiring a stretched limo in the UK (be it a wedding day, corporate event, or birthday party) you can toast in your celebrations as soon as you set foot inside one of our vehicles.

For more choices of limousine or prestige car, or simply for more information, visit our main website at www.lux-limo.co.uk, call us on 0800 0020 9475 or email us at info@lux-limo.co.uk and have one of our dedicated sales experts help you find a limousine and hire package that's right for you.

Our phone number is free, and we're happy to give personalised quotes instantly over the phone at no charge – it doesn't cost anything to enquire! So what are you waiting for? Experience some luxury today! Before you buy yourself a Bentley Continental GT Speed of course…!