While we often like to boast about the amazing services that we offer with the gargantuan 16-seater hummer limousines, and truly exceptional quality of the luxury Rolls Royce Phantoms and Bentley Arnage hire cars, there are going to be some of you who might feel left behind with those two extreme options.
The massive size of the hummer limousine's 16-seater interior might be too much space for you, wasted on your smaller party. On the other hand, the compact luxury size of the standard five-seater setup of the Rolls Royce Phantom, Bentley Arnage and vintage Rolls Royce and Bentley cars might not be enough. You want the perfectly luxurious middle ground. Enough seating without having to compromise on your cost or on the services you get.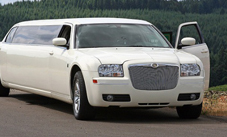 Well then look no further than our Chrysler limo hire and Lincoln limousine hire services! Both of these stretched limos follow a similar eight-seater luxury limo format, offering unrivaled levels of comfort, space and features for limousines of this type.

The Lincoln limousine is a more traditional style of limousine, and is perhaps the most popular limousine style and design in the world, having recently been hailed as America's most used stretched limousine. It is modelled after the Lincoln Town car, which has been a popular style of high-end luxury car for decades now. The Lincoln limousine is a perfect choice for a more traditional addition of style to a special occasion, and is a very popular limousine for wedding limo hire packages all across the UK.

The Chrysler limousine, however, takes this traditional design and puts its own modern, more contemporary twist on it. The Chrysler limo is a stretched version of the standard Chrysler luxury car, and is completely unlike anything on the limousine market; it is that perfect combination of traditional and modern luxury limo design. It is also a popular choice for more modern wedding day celebrations, and is often hire for everything from hotel travel and school proms, to nights out clubbing and trips to the Royal Ascot races.

So if what you're after is a spacious stretched limo, but in a more compact format compared with the monstrous size of the H2 hummer limo the call Lux Limo now 0845 055 0740 or email us at info@lux-limo.co.uk to get your free Chrysler limousine hire or Lincoln limousine hire quote. You'll be surprised at just how low our prices are, meaning you can add a ride in some of the finest luxury limos on the market to your special occasion without having to break the bank!