You may remember that a couple of weeks ago we posted about how we had launched a competition alongside our Lux Limo Facebook page to give one lucky fan a free ride in a 16 seater H2 Hummer limo, with a full hour long cruise.
Well, the competition is still going strong so there's still a chance for you to win this amazing prize – and entering simply couldn't be easier!
All it takes for you to be in the running of winning this stunning prize, saving you bags of cash in the process, is to head over to our Facebook page (make sure you're logged in!) and click like.
That's it. Really! It couldn't be any simpler. Entering literally just takes a few seconds of your time, but the prize you could win will create memories that will last forever.
And even though we launched the competition two weeks ago, you're not too late! There's still chance to be that luck one – and if you get your friends to enter not only do we get to our 100 Like goal quicker, but they might pick you as one of the other 15 passengers.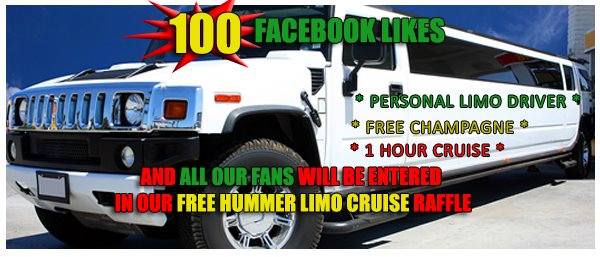 You'd enter something like the lottery but this has much better odds and it's free!
A quick reminder on the prize that we're giving away totally free to one lucky fan. The fantastic Hummer limo hire giveaway from Lux Limo includes:
A choice of stunning 16 seater H2 Hummer limo, in black, pink or white
A one hour cruise around, or a cruise to a destination of your choosing
Three big bottles of complimentary bubbly on ice for the journey
A professional, personal chauffeur to drive you around
And best of all it's an amazing FREE prize!
So what are you waiting for? Get liking! We're a little way off so far, so there's still plenty of opportunities to enter. So get clicking and most importantly share between your friends. That'll give you more chances to win and ensure we draw the prize a lot quicker.

You've got to be in it to win it!

Terms and conditions apply including, but not limited to: One entry per person. Anyone suspected of using fake accounts to increase their chances will be disqualified. The prize has no cash value, and can not be sold or exchanged for a different service. The management's decision is final.