One thing that really stands out about the H2 Hummer limo is how stylish it looks. Whether you plump for a blue, black, white or even pink Hummer limo, it never fails to look sleek and stylish while maintaining the extravagance that the Hummer limousine is known for.
But now a Russian car modification company have taken the style of the Hummer limousine to the next level by creating their own unique Hummer – the Chrome Hummer Limo!
The chrome Hummer limo takes an existing H2 Hummer limo, which is stretched to 37-feet and seats up to 16 people, and have wrapped it in an astonishing 11 metres of high-end chrome foil wrap.
The final end result is absolutely jaw dropping. If you thought the H2 Hummer limo was a stylish vehicle before, you'll be speechless once you set eyes on the chrome Hummer limo!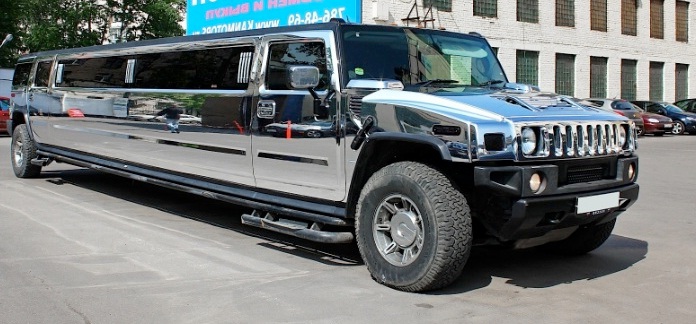 RE-Styling, the company behind the amazing chrome Hummer limo, told car blog AutoEvolution: "Every day on the streets of any city you can find dozens of limousines and they usually do not stay long in the memory, by the dull colors, which are already rather boring".

While we disagree that existing limousines are boring (we love our sleek black hummer limos and elegant white hummer limos!), it goes without saying that their creation of a chrome Hummer limo is nothing short of stunning.

We hope the design of the chrome Hummer limo becomes more popular and we start to see more chrome Hummers, maybe in other colours!

Until then, check out our H2 Hummer limousines here at Lux Limo. We have one of the most full ranges of Hummer limos for hire in the UK including black, white and pink Hummer limousines as well as double and triple-axle models too.

And if that weren't enough choice for you, our fleet here at Lux Limo even includes a yellow baby Hummer limo (ideal for smaller parties not quite needing a 16 passenger capacity) as well as a standard Hummer 4×4 – the vehicle behind the stretched Hummer limo!

So if any of our Hummer limousines, or indeed any of our vehicles at all, take your fancy and have got you excited then call Limo Hire now on 0800 002 9475 or use email us at info@lux-limo.co.uk to get one of our limousine experts to provide you with a personalised and free limo hire quote!